Row Unit
No-Till Single Disc JD750
Row Unit JD750, Updating To No-Till Technology.
ROW UNIT JD 750 – What if you could get the updated row unit and technology you want, without the expense and hassle of trading Seeders?
Typically, the toolbar of the planter is in great shape. Replace your current row units with a No-Till Unit
Upgrading your seeder to JD 750 row units will ensure you to get a consistent emergence and consequently higher yields.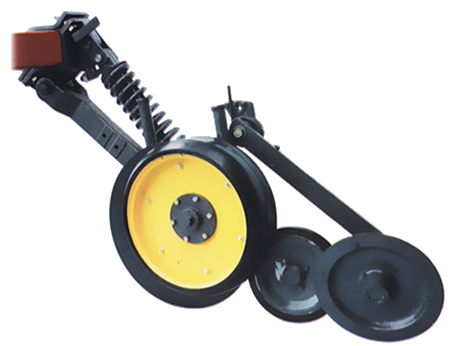 You will have our technicians support to customize your seeder to your needs and you will get a newly built planter to increase your yields.
A consistent planting depth is critical to a uniform emergence. The depth calibration adjustments features allow to every row unit be calibrated exactly to the same depth.

Fertilizes on the furrow and also sows pastures.​
Single disc unit is prepared for a demanding work sowing and fertilizing, altering minimally the stubble´s coverage and without removing the soil. It is equipped with independent tubes for seeds, fertilizer and pastures. Is Ideal for saline soils and/or with sticky clays. A 17,32″ diameter flat disc with a 7º inclination, cuts the stubble and the ground leaving a furrow with a face firm and smooth and another removed. The furrow's depth is controlled through a wheel-leveling 4,33″ x 14,49″.
A Consistent Planting Depth
An iron casting shoe work in contact with the disc, where both allow you to deposit seed and fertilizer in the furrow, through independent tubes. A presser wheel ensures the location of the seed at the bottom of the furrow in order to ensure the correct emergence of the crop. Finally, a closer wheels system removes the side walls, covering the furrow.
The single disk is ideal when it is intended to alter as less as possible the stubble and produce not soil disturbance.
It is suitable for clay soils (even more if it contains sticky clays) and or for saline soils, where you do not want to remove the soil at the sowing time.
Download the Setup And Maintenance Manual
And Get The BEST From Your ROW UNIT.