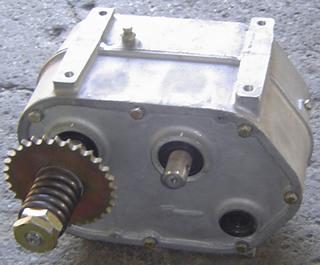 The variator allows to abandon the archaic method of adjusting the seeding rate by the installation of replacement sprockets in the sowing units drive and changes the dispensing coils working length and is designed for modernization of metering systems pneumatic seeders and seed drills with mechanical sowing.
The internal system constituted by cams, arms and one-way bearings.
Possibility to use with mechanical regulator or to add an electronic system of variable dosage.
Housing Material: Aluminum cast
Shafts: Steel SAE 4140 – Tempered
Cams: Steel SAE 8620 – Case hardened and grinded- 3 cams
Arms: Special Steel – Case hardened and grinded
One way bearing: Reinforced
Chain gear and clutch: Regulated and designed according to customers requirements.
Speed handles: Lateral
Shaft support: Ball bearing
Support position: Bottom. The housing includes position hole at the top too (opposite side), so is possible to rotate the CVT Box.
Don't miss this opportunity!
We'll send you our proposal to your email
Anti-SPAM policy: We hate as much as you do receiving emails from unknown sources. We promise to keep your mail safe.
Thank you for your subscription.
We will keep you informed!
You will receive by mail the information of those new elements that we incorporate into our product's list.
If you have any questions about our products or want to send us your comments, do not hesitate to contact us at Info@argselmash.com.ar
Thanks again!
"Guía De Ajuste Del Cuerpo De Siembra Monodisco."
!No deje pasar esta oportunidad!
Le enviaremos la guía a su correo 
Política anti-SPAM: Nos disgusta tanto como usted recibir correos de fuentes desconocidas. Prometemos mantener su correo de manera segura.